Lifestyle design has been a buzz concept since Tim Ferris published The 4-Hour Work Week.
Although free-spirited humans have been designing their life off-grid since the dawn of time (we are innately nomadic, yet shockingly 'motionless' in contemporary life), this book delivered it to the mainstream, and now it's available as a DIY option to anyone willing to invest the thought, time and energy to create the exact life they dream of.
Location-independence and 4-wheel drive aside, lifestyle design is about more than just where you want to be and what you want to have.
It's also about how you want to feel.
Proactive lifestyle design is about discovering what we really want (not what we think we want), and understanding where and how we're compromising what we really want so we can reverse engineer it and simultaneously remove the blocks in our way.
The idea is to design our life with such integrity that we can then leverage our time and natural behaviour effortlessly, and create inspirational and viable milestones that help us achieve it.
You must be in control of your life.
You must be the powerful creator at the helm so that you can infuse your life and business with electrifying energy.
Because when you are in top form, everything else in your life skyrockets.
Let's take control.
Before we start, I've made a FREE worksheet for you. You can download it from my Resource Library here.
JUST SIGN UP HERE TO ACCESS MY FREE RESOURCE LIBRARY.
Lifestyle Design 101
Write a vision for your DREAM life that excites the cr*p out of you.
Enrich it with detail in the 16 areas to make sure you haven't missed anything.
Read it every single day. Twice.
Most people focus on career, business, money, family & relationships, but there are 15 areas to consider and I've listed them below.
This should spark your imagination for a balanced and brilliant life.
But first...
#1: Write a vision for your DREAM life that excites the cr*p out of you
In The Freedom Philosophy Classes I call this your Prophecy.
Your Prophecy is a roadmap for your dream life — 3 years ahead.
It's powerful and evocative.
Writing a detailed picture of our life 3 years ahead is a great way to work with our subconscious mind, which is, after all, the most powerful tool at our disposal.
By setting out a vivid vision of what our life looks like 3 years into the future, we activate a heady mix of thought + faith that inspires us to keep showing up in a powerful way.
An irresistible filter for our behaviours, our Prophecy encourages us to show up in a way that (perhaps) we have never done before.
Try it now:
Write down a detailed picture of your life 3 years ahead in 500 words or less.
Tips for prophecy writing:
Grab a beautiful blank journal or notebook. (I LOVE my new Confidant from Baron & Fig.)
Use a colourful pen. Purple works well for dream-weaving. (I LOVE my purple Pilot Gel Ink pens.)
Switch off your laptop. Tune into your own frequency, darling!
Go somewhere quiet, beautiful or inspiring, if you can. A gallery. Your favourite café. A park or mountain. Your bed.
Close your eyes for a few moments. Then write what you 'see'.
Write in the first person: include how you feel, what you do, what you have, and who is around you. Avoid names of people; instead say 'friends', 'husband/wife', 'lover' or 'children'. We're not writing a prescription; we're writing a vision that can unfold in any way.
Be unreasonable, but not unrealistic. This is designed to entice you forward.
Free write, without editing or self-censorship. It's for your eyes only.
#2: Enrich your Prophecy with detail in the 16 areas of life
Let's drill down into a little more detail to explore the micro areas of our life that enable our prophetic vision to unfold.
This makes sure you don't miss anything that contributes to you living an abundant, vibrant and energised life.
Change and transformation in these 16 areas is critical, or no change and transformation will occur at all. You can't just focus on a few and expect to thrive.
These areas are specific elements that intertwine to create a rich and fulfilling life.
And you may have forgotten some of them in your 500 word Prophecy.
This is totally OK, and exactly how the prophecy is meant to be: the top level, ultimate vision of our dream life.
But we need to get granular to action it.
These 16 areas tend to include areas of life that are either:
Usually grouped together: business + career + money;
Not considered at all: personal space + community;
Sometimes avoided altogether: spirituality + personal development.
When we address these areas in detail, we're simply expanding our prophecy to bring awareness of the interdependence of the different elements that contribute to it, and understand how they combine to create balance.
Balance is the baseline for whatever success looks like to you, whether it's happiness and fulfilment in general, or something more specific, such as impacting the lives of one million people and banking two million dollars a year.
This might be the most challenging — and is definitely the most time-consuming — journaling exercise, but trust me when I say it's worth it.
In your own journal or the PDF workbook you can access in my FREE Resource Library, create a vision for each of the following in only a few sentences:
Body
Health
Personal development
Spirituality
Personal space
Home
Romantic relationship
Friendship
Family
Community
Home
Career
Business or startup
Money
Learning + education
You may wish to first define it if it doesn't seem clear to you.
What does community mean to you?
To me it means the groups of life-minded people that form around me in my neighbourhood naturally, with minimal effort.
A literal or abstract definition of each area works either way. Decide what's best for you.
By abstract I mean a deeper, more philosophical, more spiritual approach.
For example, your beliefs about your body or money and how you 'feel' about them, versus concrete ideas about how much you weigh or how much is in your bank account in absolute terms:
I feel confident and sexy, regardless of my weight (literal); or I love my body as my spiritual home (abstract).
Money is a direct reflection of my impact in the world (literal); or my capacity to generate wealth is infinite (abstract).
When you're finished creating goals in each area, reread your Prophecy.
Could it use more oomph?
You might like to rewrite it to give it more power and address the finer details of the things you'd forgotten.
Or it might be fine as it is. It's up to you!
#3: Pin it up
The #1 reason most goal setting exercises don't work is because people do them and then FORGET about them.
Don't do that.
Make a beautiful handwritten artwork or print it from a Word or Pages document.
Pin it up around the house, keep a copy next to your bed, pop it in your bag.
Read it out loud every morning when you wake up, and again just before bed.
And if you're more of a slapdash kind of person like me:
Write a one-line reminder lipstick on your bathroom mirror.
Write it on a Post-It and stick it in your Kindle.
Paint one of your cupboards with Chalkboard Paint and get some colourful chalk.
This process will:
Fill your subconscious with a vision of your premium life, knowing you're doing what you can to live it every single day.
A series of incremental upgrades will create your premium life from today.
Reading it regularly will remind your conscious and subconscious mind to create it.
Just think how much faster you'll get to your destination with this roadmap.
What do you find most challenging when it comes to envisioning what you want?
...........................................................................................................................
Do you have a dream, goal or decision to make but tend to get overwhelmed or flustered when it comes to taking action?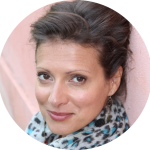 Hey, I'm Stephanie. And I'm your greatest ally.
I have a unique gift for simplifying complexity, powerful perspective shifts, uncovering hidden opportunities, and crafting the immediate next steps that fast track your goals.
Find about more about my mentoring sessions here, or send me a note and we can connect for a 15 min call to discover how I might be able to work with you to achieve your goals.
...........................................................................................................................
Other posts in this Life Planning Series:
How To Write Goals That Manifest Miracles (and a FREE Planner To Get You Started)
6 Epic Travel Strategies for Solo Entrepreneurs and Corporate Misfits
5 Ways to Plan More Freedom Into Your Career
13 Life Hacks that Amplify the Impact of Your Life and Work
What Kind of Life Do You Want? Practical Lifestyle Design in 3 Simple Steps
Image: Scott Webb via Unsplash