Kickstart Your Mini Empire
Cultivate killer confidence, a flawless foundation
and a focused game plan for your ideas.
❤  You have an idea — or many! — and just don't know where to start, or...
❤  You've already started; feel like you're going around in circles, questioning your value, or...
❤  You've given it your all; not seeing results, and feeling overwhelmed with it all. 
So, beautiful, what if you had...
❤ Killer confidence?
❤ A flawless foundation for ALL your ideas?
❤ A 12-month game plan for ONE of your ideas?
Would that make a difference for you?
What if you were able to...
❤  Craft better, more effective plans that make better sense for your goals.
❤  Launch your ideas with more ease, vision and freedom. 
❤  Have an impact and profit from your creations?
What if you could just start
where you're at at RIGHT NOW
and get the ball rolling?
How good would it feel to know EXACTLY where to start;
exactly how to focus you're time and energy;
and be able to generate *momentum* & *results* asap?
KICKSTART YOUR MINI EMPIRE
Cultivate killer confidence, a flawless foundation
and a focused game plan for your ideas.
❤  The most comprehensive strategic framework for kickstarting (or re-starting!)  your brilliant business ideas.
❤ A systematic, repeatable process for people who want to set themselves up for success while they launch their ideas.
❤ A unique online-training & personal coaching HYBRID for ambitious women who want to launch their ideas with more ease, vision & FREEDOM.
Stephanie is such an inspiration. I feel as though she's in my mind; I felt like she was hearing my thoughts, fears, concerns about starting up, and responding directly to them with logical reasoning and perspective shifts.  Her style is really raw and peppered with quotes and research. She has the gift of connecting with her audience in a really easy-going way. As someone in transition from corporate to entrepreneur, it really hits the spot for me.
❤  Stacey Palmer
So down to earth and no bullshit. It's like she's sitting right next to me and actually coaching me live on how to get my act together and get started with my business. She anticipates the curveballs and objections one at a time, like she's in your head. Stephanie has a genuine interest in helping you identify your own meaning and purpose in a way that suits YOU.
❤  Annie Dawson-LaForest, Canada
A step-by-step video-based multimedia classroom designed to help you cultivate the core fiber of an entrepreneur.

At the end of this 4-week training you will have the building blocks of killer confidence, a flawless foundation for your ideas, and a 12-month game plan:
You'll be radically organized & visionary about your life and work
You'll learn how to thrive & avoid overwhelm & burnout
You'll cultivate a failure-proof mindset
You'll have a dynamic vision for your business & a 12-month plan
Each week you have a 30-min checkin with me via Skype.

You received personalized, one-on-one support as you go through the training.

I help you stay aligned with your own vision and ideas; stay on track with your own goals; and ensure you build a business model, plan and strategy that aligns with the life and business you want to create.
PART 3 : THE STRATEGY SESSION
This is where the pedal hits the metal.

We schedule a 60-minute strategy session to ensure your 12-month game plan is aligned to your dynamic business vision; on track with your goals; and something achievable and joyful.

This last part of the critical step of creating better, more meaningful plans that make sense for your goals.
Stephanie is an artist with words and has a natural ability to connect with right-brain thinkers. She helped me filter through the busy-ness in my mind and create a clear template for turning my crazy ideas into a structured business model.
Her approach is organic, flowing and adaptable. This is a vital part in my journey of being absolutely on purpose.
❤  Amy Morris, Yoga Teacher
Stephanie has a true gifts for turning thoughts and visions into tangible actions.  She has a way of lovingly getting to the core of my vision, breaking it down, and turning it into a strategic action plan. 
By the end of the session I not only had a clear vision of my next steps, I also had a clear vision of how to take my business to the next level. Stephanie puts her whole heart and soul into her work.
❤ Lynsey Landry, Intuitive Energy Healer
Here's what you create...
❤  A dynamic vision for your life & work
❤  A powerful schedule that sets you up for success
❤  A formula for avoiding overwhelm & burnout
❤  A dynamic vision for your business that gives you unstoppable driving force behind your ideas
❤  A simple, repeatable success-planning process
❤  A core project focus and a product & service rollout plan
❤  A 12-month game plan to bring your ideas to life
Before working with Stephanie I felt confused, frustrated, and didn't really know know how my ideas would all fit together or how to go about it. (I also didn't have clarity around my niche audience). What I loved most was being guided through clear and concise steps for my own Strategic Action Plan.  I felt relieved; I now have something very clear and specific to work on, and I can see the possibilities of what I can achieve. I have worked with other coaches, but I have to say Stephanie is on a different level. I am so glad that I was introduced to her.
❤ Claire Maggie Baker, Wellness Advocate
I had created a plan for my passion but wasn't sure where to start so I decided to book to see if I was on the right path. Working with Stephanie for 4 weeks was absolutely brilliant from start to finish. By the end I'd gone through a complete mind-set change and had an actionable plan to build and implement. 
She's on the journey with you, wanting you to succeed and do well with your idea, thinking about your outcomes in every step and has tons of positive energy and inspiration to keep you going. Having a strategic action plan, bonus plan and my tailored start up guide has steered me in a far more clearer direction to focus on. I loved the whole process.
❤ Su Zafar, creator of @freefromproducts
Here's what you'll cultivate...
❤  100% CONFIDENCE to follow your own ideas.
❤  CLARITY about what you want and why. 
❤  The WISDOM to organize your ideas and plan your RESULTS had of time.
❤  CERTAINTY of the value you can create and the impact you can have.
❤  The ABILITY to create your own vision and metrics for success. 
❤  PERMISSION to create a freedom life right now.
You have an idea,
but you don't know where to start.
You've started,
but you're going round circles.
You're overwhelmed,
(and 'effing over it!).
❤ For corporate misfits with big ideas or an entrepreneurial pulse but no idea how to start.
❤ For individuals who want to build a business around their own personal freedom.
❤ For solo entrepreneurs experiencing the pain, drama and burnout of starting up.
You'd love someone on your side,
for guidance & support.
I feel so much happier, in control and excited about what I'll achieve in the next 6 months after my session with Stephanie.
The biggest shift for me has been a greater focus on my WHY, as well as on what is in my power to change immediately. I have greater clarity around how I need to spend my time. I know the next stage of my business will be challenging but I feel very clear on my next steps; a weight has lifted and I know I'm moving in the right direction.
❤ Gee Foottit, The Wedding Day Body Plan
I'm almost crying writing this. I have been able to identify ways to turn my ideas into revenue and can see the timeframe in which this could be made possible.
Hearing that it is possible and being given strategies has really really helped. I really feel like a weight has been lifted and I can actually see the potential everything holds AND I can actually achieve this!!  Thank you! Thank you! Thank you!
❤ Sam Bowen, The Acorn Network
I'm a startup-trained Startup Strategist (Yahoo!, MSN Microsoft) and personal development junkie who helps ambitious women launch their business ideas.
I've helped clients across health, fitness, spiritual and creative industries to validate their ideas, create sustainable business models and develop the core fiber of an entrepreneur.
I'm passionate about helping new entrepreneurs stay in the game until they get the results they're looking for.
Stephanie is a talented motivator — I feel rearing and ready to go — she's opened up my mind to possibility and empowered an uber-positive outlook. The content was amazing. It's a free flowing, fast paced yet structured style that takes you on a fun journey.
❤ Adam Bonnaddio
It's helping me stabilise the roller coaster of starting up. I had been working 7 days a week, 12 hours a day and I was burning out about once a month, but I've begun to structure my day to bring distance between me and my ideas. It's great to invest in building a foundation for a freedom life, too. I feel I'm on the verge of a breakthrough, the edge!
❤ Jonathan Povey, Jonathan's Backpack
❤ Follow your ideas with more ease, vision and freedom
❤ Use failure as a tool to shape the future
❤ Thrive on all levels regardless of commercial success and financial wealth
❤ Cultivate leadership qualities and avoid working 24-7
❤ Develop meaningful metrics of success that catapult you towards your goals faster
STEPHANIE HAS EXTRAORDINARY ENERGY. PEOPLE WANT THAT, … HUMANITY NEEDS THAT.
Alex Inchbald, Breakfree Creativity
THE MATERIALS ARE SIMPLY OUTSTANDING. HER GIFT IS SHARING HER EXPERIENCES, THROUGH HER SPIRITED WORDS.
Tony Johnston, TonyJohnston.tv
STEPHANIE HAS BROUGHT SO MUCH AWESOMENESS TOGETHER, IT'S JUST INCREDIBLE.
Todd Hannula, enterdacunha.com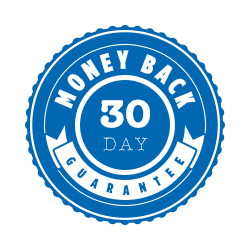 If you do the work; you can show me you've done the work; and you're still not satisfied; I'll give you a FULL refund within 30 days.

My goal is for you to feel passionate, purposeful and visionary about your life and work 😍, so if this program does not fulfill on that promise for you then I will happily give your money back.

Just send me your completed worksheets for Weeks 1-4 and I'll action the transfer right away.😀