Last year the idea of recording a Facebook Live Show would have terrified the cr*p out of me.
But after creating a 25+ video lessons for The Freedom Philosophy Classroom I realised it's a great way to develop a more personal relationship with my audience.
And after years of writing in various forms I was due a content upgrade. I decided I was finally brave enough to be 'seen'.
When Stephanie Liu offered me a spot on the Beta program for launching your own Facebook Live Show I jumped at the chance.
There are a lot of things to do to take each episode from concept to fruition, but I keep it nice and simple with a well-articulated workflow.
Here's how I manage my content creation workflow for my Facebook Live Show, also called a content production process:
Define Your Workflow (What Needs to Happen)
Choose the Systems that will help you maximise effectiveness of the workflow
Define Show Content
Invite & Schedule Guests
Map Your Editorial Calendar
Show Setup
Layout & Design of Show
PRE-SHOW PROMOTION
Go Live!
Publish to Your Content Platform & Promote to Your Audience
The process is similar to my blog content production process, but I use some different systems AND pre-promotion is important so people can join the show live.
–
If you haven't read Ninja Content Creation PART 1 go back and read that now. This is Step 4 of my Content Marketing Series that starts here.
–
Let's get into it in more detail.
Define Your Workflow (What Needs to Happen)
The workflow is a list or checklist of the steps/ actions that you need to take the show from concept to *live* and then published.
Define Show Content
Invite & Schedule Guests
Map Your Editorial Calendar
Show Setup
Layout & Design of Show
Pre-show Promotion
Go Live!
Publish to Your Content Platform & Promote to Your Audience
Choose the Systems that will help you maximise effectiveness of the workflow
I use many of the same systems as I do for my blog content creation, and a few more to edit images, make the trailer, and record the show:
Define Show Content
Once you've defined your strategy for your show (the what, why, where and how) it doubles as the script for your show trailer.
Here's mine:
Initially I set out to do 7 episodes per Season so that I had the flexibility to change the show them and experiment. Owing to guest cancellations (Read: 'no-shows') I ended up filming 5 in Season 1.
Once you've created your trailer, simply share everywhere you can think of:
Friends & Family
Your Email List
Your Social Networks
And ask friends to share it, too!
Your ultimate goal is to announce your new show and drive people to your landing page where they can either:
Subscribe to your newsletter so they receive 'heads up' emails or post-show prompts to watch the replay.
Like your Facebook Video page so they can receive notifications when you schedule a broadcast or go live.
Invite & Schedule Guests
If you're doing an interview show you'll have to line up some guests.
In my case: 7.
The advantage of having an interview show is that your spontaneous conversation becomes great content, and you don't have to think of what to say for 30 mins +.
The disadvantage is that guests cancel. Sometimes on the day of the show!
IT'S MADDENING!
Keep track of them in Google Sheets.
Map Your Editorial Calendar
Decide how often you'd like to go *LIVE* with your show and then schedule it in a Google Calendar.
This is called your Show Calendar!
Show Setup
This is where you choose the platform you'd like to use for your FB Live Show.
I've tried:
OBS – but this was too heavy for my Mac Air, so I used:
BeLive TV – this was FREE until they changed it to a subscription, so for Season 2 I will use:
ECamm Live – a one-off fee of $20 and a really simple interface
There are other options; hit Google and try them out.
Experiment and choose the platform that feels most natural for you.
Write a tempting teaser for your show. I use the same template for each show and save them in Google Docs.
Schedule the broadcast
Here's where you crack open the platform and schedule a your show.
I open ECamm Live and schedule the broadcast…
Then you can head over to your Facebook Page and embellish the broadcast with more info, like: Location, 'Feeling' etc
Then I schedule an event so my network will receive a notification when you go live:
Pre-Show Promotion
Here's where the process differs slightly for the show – pre-show promotion is a MUST.
The beauty of the show is the *live* element – so you can invite your audience to contribute comments and questions during the show.
This kind of interaction is a great way to build relationships with your audience and build your tribe.
Here's how I promote my show:
I share the Facebook event with my personal profile page, my business page, and any groups I belong to that might be interested.
I schedule a newsletter to my list to notify them that the event is happening.
I schedule 6 tweets about the show, including one an hour before, and a 'We are live NOW' tweet.
I share the event with my Google Plus and LinkedIn networks using Hotsuite.
Layout & Design of Show
Once you've chosen an FB Live Platform — Like ECamm — it's nice to add a bit of branding to your live stream window.
You can add:
FB Live logo
Your business logo
Social media links etc
I like to add my banner! I make it in Canva using my brand colours.
Show Prep
I do a couple of things to prepare for the show:
Hair and makeup, ALWAYS!
An 11-minute Kundalini meditation 'Sat Nam' to get into a peaceful, happy state
Set up my Show Kit: Plug in my webcam, headphones, and check my lighting
Connect with my guest via Skype (for the interview series) for a pre-show chat and to check their sound, lighting and connection
Go Live!
I head over to ECamm Live 5 minutes before the scheduled time and click 'Go Live'.
I start by welcoming my guests and introducing the show…
Welcome to Thriving Empire Live the show where we talk about the realities of living & working on your own terms.

I'm your host, Stephanie Holland, the creator of The Freedom Philosophy.com a mindset and lifestyle guide that helps you cultivate the core fibre of an entrepreneur so that you can stay in the game until you get the results you're looking for.

IN THIS EPISODE…
I bring on my guest if I have one, and the show commences!
Publish to Your Content Platform & Promote to Your Audience
After the show I TAKE A ONE HOUR BREAK.
Then…
I head over to my Facebook page to edit the broadcast notes, adding resources or links recommended during the show.
I create a blog post for my website & embed the FB Live show
I schedule a newsletter to my list to drive them to the blog post
I schedule another 6 tweets to promote the blog post to my audience, using key buzz phrases mentioned by my guest.
I post the blog link to my social media networks
I share the blog post with my guest, together with the show notes and suggested social media posts so they can help with the promotion
I'll cover this more in the next post about promotion.
Et Voila!
That's my entire production process for Thriving Empire *Live*
Now that you've set up a content production process, are you ready to put your promotion into overdrive?
Next up: Step 4, Your Content Promotion Strategy >>
……………………………………………………………………………………………………………
Would you like help raising your brand awareness and spearheading your marketing efforts?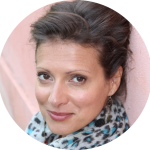 Hey, I'm Stephanie. I'm a Ninja business & marketing consultant and I'm here to help.
Whether you want the specialised skills of a communications planner or marketing strategist, extra horsepower for a new project, or the outside eye of a startup strategist, I bring more to the table than an impressive résumé.
Find about more about how I work here, come over to my consulting page to see how I can help you, or send me a note and we can mastermind how to maximise the profit and impact of your game-changing ideas.
……………………………………………………………………………………………………………
Other posts in this series:
(Content Production Part 2)
Content Conversion
###
Photo by Sticker Mule on Unsplash
This post was imported into WordPress in one click using Wordable